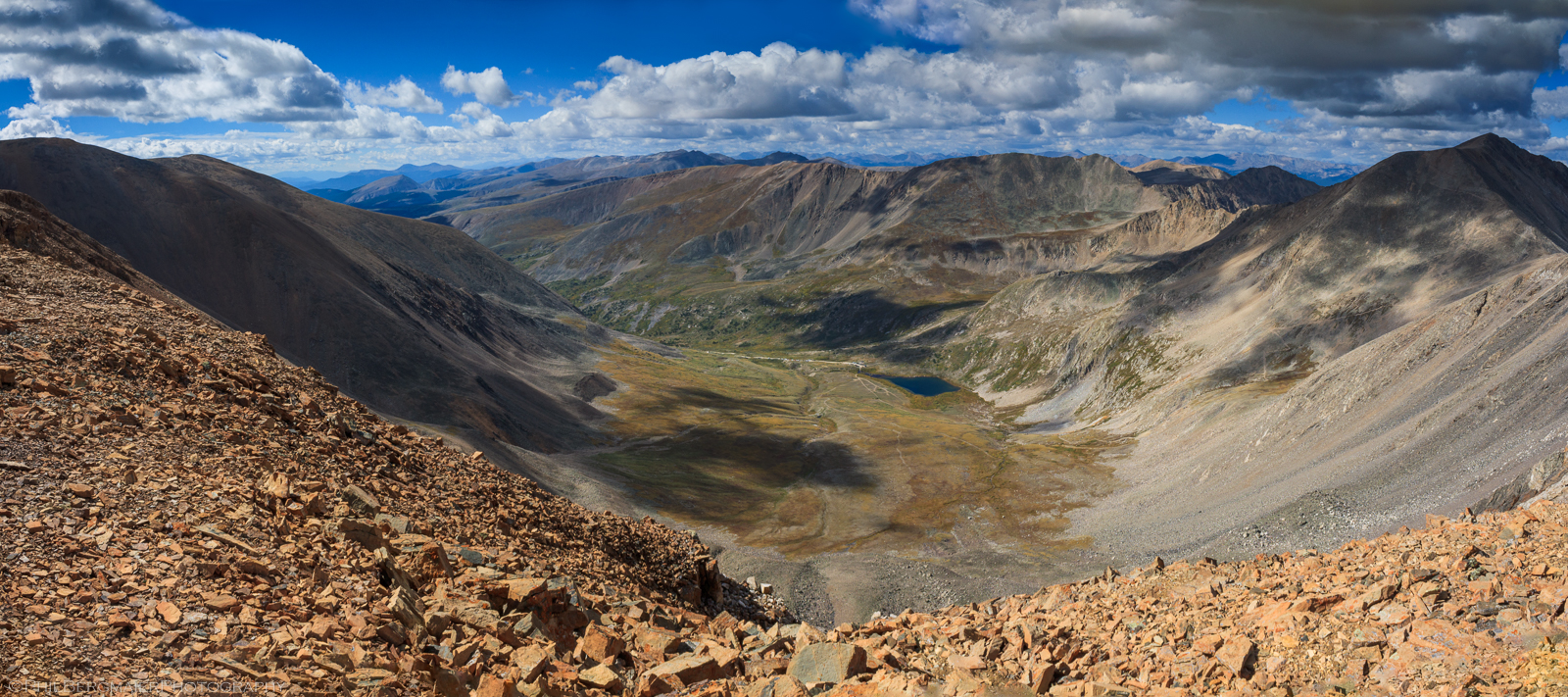 TRIP STATS
Mountain(s):  Mt. Democrat (14,154'), Mt. Cameron (14,248'), Mt. Lincoln (14,293'), Mt. Bross (14,178')
Distance:  7.25 miles
Elevation Gain:  3,700'
Roundtrip Time:  7 hours
BACKGROUND
This hike took place over Labor Day weekend in 2012, about 2 weeks or so after I had moved out to Wyoming from Pennsylvania. The week before, an email had been sent around by two grad students to everyone in my department asking if anyone was interested in doing a 14er hike that weekend. Being the newly adventurous person that I was, I jumped at the opportunity, not really having any idea what a 14er really entailed. My roommate decided to go as well. The two of us had recently hiked Medicine Bow Peak near Laramie, which tops out at a respectable but not very high 12,013'. The next logical step up was a 14er. I can't remember if I knew beforehand that I'd actually be hiking FOUR 14ers that coming weekend - all in one day - but it didn't really matter, it was a new experience and I figured why not.
The DeCaLiBro is an acronym often used when referring to the four closely-bunched 14ers near the Continental Divide southwest of Breckenridge, in Colorado's Mosquito Range. The four peaks are Mt. Democrat, Mt. Cameron, Mt. Lincoln, and Mt. Bross... hence, DeCaLiBro. They are essentially all connected by short ridgelines or saddles (i.e., low points along ridges connecting two peaks) and can easily all be hiked in one day. They are also fairly high in elevation, all exceeding 14,172'.
To hike the DeCaLiBro via the standard route, one must begin at the Kite Lake trailhead at 12,000' located in the large bowl at the base of the peaks (Photo 1). Our plan was to try and make it up the rough 2WD road the night before the hike to the parking lot at the trailhead and camp somewhere nearby. We managed to make it to within about 1/4 mile of the trailhead when we found a nice spot to camp on the side of the road. The road seemed to be at its worst just past this point, so we decided to stop there and set up our tents. The view from here during sunset was quite the treat (Photo 2).
SUMMIT DAY

We got up early the next morning (well, I thought it was early) and began hiking by 5 or 5:30am (I think), while it was still pretty dark. I've come to find out, after many more 14er hikes, that 5:30am is not really all that early. Anyway, beginning at Kite Lake, near 12,000', we headed north and then northwest to the base of the east slopes leading up to the saddle between Mt. Democrat and Mt. Cameron.
The trail was well-maintained and easy to follow, even in the dark. From the base of the slopes at about 12,600', we had a 750' climb to the saddle, which we reached around 9am. At some point while we were climbing the sun popped out of the dense clouds that were shrouding the peaks and gave us some welcome light and a little bit of warmth (Photo 3). The view from the saddle to the northwest was quite awesome (Photo 4).
We reached the summit of Mt. Democrat around 9:30 or so, chilled out for a few minutes, took some photos (Photos 5, 6, & 7), and started heading back down to the Democrat-Cameron saddle. I remembering it being very windy at one point going down, and I was probably thinking "Is this really gonna be worth it?".
The views continued to be incredible as we made our way back to the saddle. We took a brief break next to some cairns guiding the way (Photos 8 & 9) and began making the ~770' hike up to Mt. Cameron's broad summit.
The summit of Mt. Cameron is very flat, quite boring, and really doesn't do a 14er justice. But it is a nice place to stop and grab a quick bite to eat - and maybe call a family member - before beginning the second half of the DeCaLiBro loop. That exactly what we did (Photo 10) as we continued to enjoy some really cool views.
Interestingly, Mt. Cameron has the second-highest summit of the four mountains we climbed (at 14,238'), but is the only one to be officially unranked and therefore not included in the official list of Colorado 14ers. In Colorado, to be an official 14er, a peak must rise at least 300' above the highest connecting ridge/saddle between it and it's parent peak (i.e., the next highest peak). This is another way of saying that it must have a prominence of at least 300'. Mt. Lincoln is the parent peak in this case, since it's a half mile away and tops out at 14,286'. The highest connecting point between the two peaks is the Lincoln-Cameron saddle at 14,100', so Cameron's prominence is only 138'. Bummer for Mt. Cameron...
Next, we made our way down a pretty mellow and wide-open slope to the Lincoln-Cameron saddle (Photo 11). From here it was only a 186' climb up to the summit of Mt. Lincoln; however, this summit was the most fun as far as I'm concerned (Photo 12). It wasn't quite a scramble (where you have to use your hands), but the trail up to the summit had some decent exposure on either side, including a few steep gullies there may have only been 5-6' wide (Photo 13). Also, the summit was pretty small and confined, unlike the summit of Cameron which you could have played football on (Photo 14).
We were on and off the Mt. Lincoln summit fairly quickly, trying to get off the mountain as soon as possible. I think it was already after noon by this point, and it's always a good idea to try and be off these peaks by that time to avoid any afternoon thunderstorms and their frequent killer, lightning. The trail took us past the Lincoln-Cameron saddle to the south, toward the Lincoln-Bross saddle.
On the way up the trail to the Mt. Bross summit, we came across a sign that said the summit was closed due to some conflict between the private land owners and hikers. We were expecting this, but weren't sure if we were going to go forward and still gain the summit or not. Plenty of people do, and the closed sign isn't enforced, I don't believe. We ultimately decided not to go all the way to the summit and instead went up to 14,000' on Bross' slopes and were content with that. So, no actual summit, but that only means I now have to go back someday to finish it!
On the way back down to Kite Lake, the trail gets quite steep and we ended up sliding down a scree field (i.e., a slope with a bunch of smaller loose rocks). The views of the bowl/basin below, and Mt. Democrat across the way, were definitely stunning though (Photos 15 & 16).
Near the bottom, we found a nice little waterfall which provided some needed relief from a hard day's work (Photo 17).
We were back to the Kite Lake trailhead by 12:30pm, if my memory serves me right (I had to cheat and look at the time stamps on some of my photos). After packing up our tents and relaxing for a bit, we hopped in the car and headed back to the town of Frisco where we enjoyed an end-of-the-day meal at a nice Bar & Grille. Well, some of us enjoyed it... by then I had an awful headache and felt pretty sick due to the altitude. Nothing an Excedrin can't solve! All in all, a good first 14er hike for me, and also one of the easiest ones.