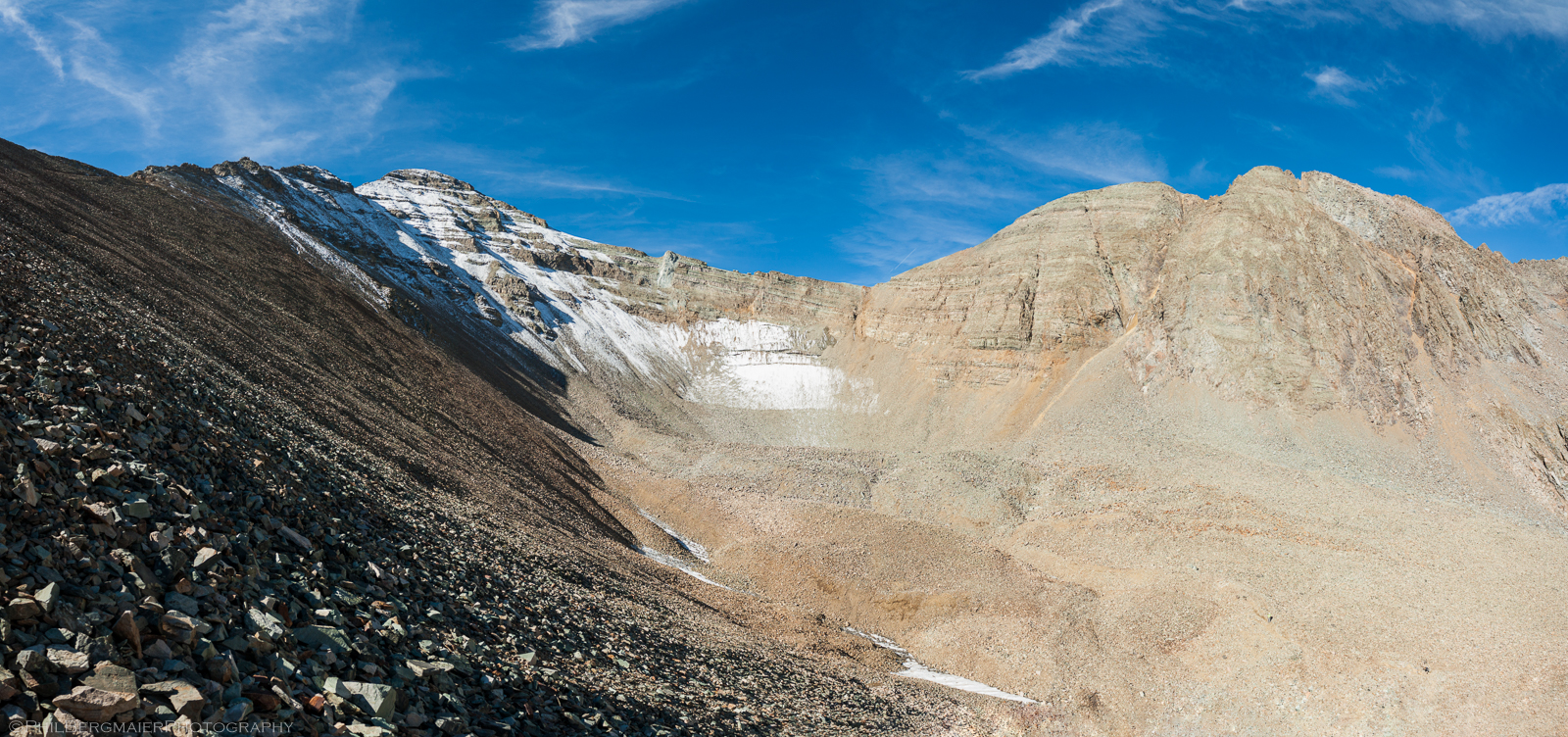 TRIP STATS
Mountain(s):  Castle Peak (14,274')
Distance:  13.5 miles
Elevation Gain:  4,600'
Roundtrip Time:  8.5 hrs
BACKGROUND
This was only the second 14er hike I've ever done (although the fifth 14er, thanks to the DeCaLiBro hike I did about 2 weeks earlier), and it was certainly a step up from the first both with regard to elevation gain and mileage. It wasn't, however, all that much more difficult of a trail to hike, still being only Class 2 (I'll do a blog post on the climbing rating system sometime in the future). We drove in very late the night before, arriving at the intersection of Castle Creek Rd and Forest Service Rd (FR) 102 after 11pm, I believe. This was at about 9,800' and, since FR 102 becomes a difficult 4WD road farther up, we decided to find a place to park along FR 102 soon after the intersection. There were quite a few other vehicles parked along or just off the road here, but we did manage to find a spot next to Castle Creek, set up our tent, and hit the hay.
Since it dark when we arrived, I really had no idea what to expect the next morning in terms of the scenery. My only exposure to 14ers up to that point had been the rotten and boring DeCaLiBro peaks, which were certainly fun but not something you look at and say "Wow, that's steep!", or "Look at those cliffs!". My high opinion of the Elk Range would be formed the next morning quite early. It was also near peak fall foliage, so the aspens were out in full force!
SUMMIT DAY

The forecast for hiking day was beautiful with almost no chance of rain, so we decided not to get a very early start. Instead, we began after sunrise, around 7am or so. As we were getting read to leave, I noticed the first rays of warm sunlight hitting the jagged, red-hued rocks - so characteristic of the Elk Range - on the ridgeline that extends southward from Castle Peak. We could not see the peak itself, but this simple scenic view told me that this was an entirely different area that I was used to. It also told me that the particular mountains were more wild, steeper, and perhaps a bit more dangerous. I've learned in the years since that this is certainly true, and I love these mountains because of it.
We hiked from our camping area at 9,800' westward up FR 102, which follows Castle Creek and was pretty straightforward (Photo 1), although it eventually became quite strenuous as the road began to ascend northward into Montezuma Basin (Photo 2). Around 11,200', after we crossed the creek, another very rough road split off to the west (Photo 3) to go up Pearl Pass (12,705'), which makes the list as one of the dangerous roads in North America. We continued north on FR 102, ascending over 1,000' into Montezuma Basin. The road was actually quite manageable for vehicles even as it contoured across the steep north slopes of the basin (Photo 4). The road is actually a dangerous route to follow when there is lots of snow on the slopes, since it crosses avalanche terrain. Even during our hike, with no snow, there was plenty of evidence of rock slides and other alarming activity (Photo 5).
We continued north on FR 102, ascending over 1,000' into Montezuma Basin. The road is actually quite manageable for vehicles, even though it contours across the steep north slopes of the basin (Photo 4), but is actually a dangerous route to follow when there is a lot of snow on the slopes, since it crosses avalanche terrain. Even during our hike, with no snow, there was plenty of evidence of rock slides and other alarming activity (Photo 5). By this time, we were finally able to see Conundrum Peak (14,060', officially unranked) but Castle was still hidden to our west by its east ridge.
This road, like most high-elevation 4WD roads in Colorado, was apparently built for mining a long time ago. You even pass an old, abandoned mine somewhere along the way. I always find that stuff to be pretty cool, although getting too close is a no-no. You never know where you could fall in! Obviously, now the road serves primarily as part of the route up to the peak. However, it's also drivable for high clearance 4WD vehicles all the way up to 12,800', and we saw a number of them during the hike. I'll talk a bit more about that later.
As the road winded around to the left (west), we finally caught our first glimpse of Castle, at least the very top of it. After finally reaching the end of the road at 12,800', where there was actually a small parking area next to a small lake, the route became a little bit more difficult. The trail winded up through a field of small boulders for about 600' until it flattened out at 13,400' in Upper Montezuma Basin. We then began climbing the steep slope on the north side of Castle's east ridge. The view from here opened up and both Castle and Conundrum were before us in full glory (Photo 6). The trail was well kept and reached the ridgeline (Photo 7) at around 13,750', less than 1/2 mile from the summit.
We summited reached around 11:30am, after only 4.5 hours during which we ascended a total of 4,600'. That's about 1,000 feet/min, a pretty solid but exhausting pace. I don't remember if our plan was to try and summit Conundrum as well, but I do remember Chris began to feel sick and I was dead tired, so we did the sensible thing and headed toward Conundrum anyway...
Actually, just kidding. We spent maybe 20 minutes on the summit, during which I took a few photos and panoramas (Photos 8, 9, & 10). The views were stunning. We could easily see all five of the other 14ers in the Elk Range to the northwest, all of which are way more difficult and dangerous. This included Maroon Peak, which I would end up climbing a few years later. Some rankings, such the "official" 14ers.com user-based difficulty rankings, have all five of these right at the top of the Colorado 14er pack in terms of overall difficulty (i.e., danger, exposure, length, elevation gain, etc.). Capitol Peak is often ranked #1, with Pyramid and North Maroon around #3 & 4, Maroon around #8, and Snowmass near #10 or so. Compared to these, Castle is a walk in the park.
About 20 minutes later we began heading back down and quickly reached 13,400' again at the bottom of the east ridge. As we were descending we heard a lot of rocks falling across the basin on Conundrum's steep south slopes, but we couldn't figure out what was causing it. We stopped and scanned the slopes for a minute or so (Photo 11) before we heard some voices just below the Castle-Conundrum saddle (Photo 12). All of a sudden we caught sight of the source of the rock fall... two people who had attempted to descend those steep slopes and had apparently become "cliffed out" (i.e., they reached a cliff and had nowhere to safely go except back up, if possible). You can see them in Photo 12, wearing yellow and dark shirts to the right of center.
We watched this for a full 10 minutes or so, wondering if they were going to get back up the slope or not. Two others, perhaps a couple friends of theirs, were communicating with them from above and attempting to reach them, or at least encourage them to come back up to the saddle. Eventually, we lost patience and continued on our way. We were of no help to them from where we were. We never heard if they got out safely, although a quick check of the Aspen news a few days later indicated no deaths or injuries on Castle that day.
However, we did later come to find out that someone had actually died that very morning on North Maroon Peak just to our northwest (story from FOX 31 Denver). I don't remember hearing a helicopter flying around - maybe Chris does - but it was a good 6 or 7 miles away. Truly sad, but unfortunately not an altogether uncommon occurrence in the Elks.
Anyway, we safely made our way back down through Montezuma Basin, passing a couple vehicles in the upper parking lot (yes, at 12,800'!) and then later getting passed by a guy in a big ol' Jeep heading down who, if I remember correctly, offered to give us a ride. I think we declined because we were gluttons for punishment. Besides, that allowed us to thoroughly enjoy the beautiful views to the south of the aspen-covered ridges and valleys (Photos 13, 14, & 15).
I grew up in Pennsylvania. Many people say that Pennsylvania has some of the most beautiful fall color on the East Coast, behind maybe only northern New England. It's true, it is beautiful. But for whatever reason, I find the combination of the yellow/orange aspen trees and the red-colored rocks you find in the Elks to be more stunning than any fall color I've ever seen east of the Mississippi. Maybe it's just me, but it sure is incredible to experience. I mean, just check out the Maroon Bells two years later in September 2014!
I'm sure I'll be back to hike this route again, because I still need to summit Conundrum, someday. I know, it's unofficial, but I'm going for all 58, not just the official 53 14ers. I'll definitely look forward to it when I do go back. The hike was worth it and, if you're looking for an easier 14er hike in these beautiful mountains, this one is it... all the others are Class 3 hiking or higher. Alrighty, that's all for this one. I'll leave you with one final aspen photo from the drive out. Cheers!